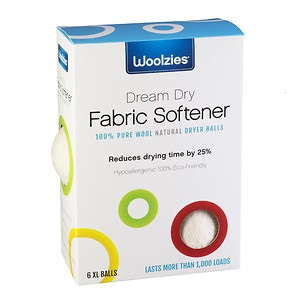 I was asked to used Woolzies dryer balls and blog about it. First, Woolzies is a wool ball composed of New Zealand wool. It is safe for people with allergies and wool sensitivities. The point of the balls is to replace fabric sheets or fabric softeners. The six balls I received for the trial last for 1000 loads. A quick math calculation revealed it would take me close to a year to do that much laundry.
Let's do the math on pricing. A box of six balls runs from $23-$32 on Amazon. Drugstore.com runs sales on Woolzies too. In a year, I go through about 11 boxes of fabric sheets. Depending on where I buy them, the price varies. I found Meijers is the highest on their sheets.
Krogers/their brand

$29.70
Does a great job softening towels, diapers and jeans
No smell (pleasant or otherwise)
There is the sound of the balls bouncing in the dryer, but I close the laundry room door and just ignore it. I plan to continue using Woolzies since our Homeowners Association doesn't allow us to have clotheslines.

Pair your Woolzies with a high efficiency washer and save big on your laundry bill.
Find out more at. www.Woolzies.com